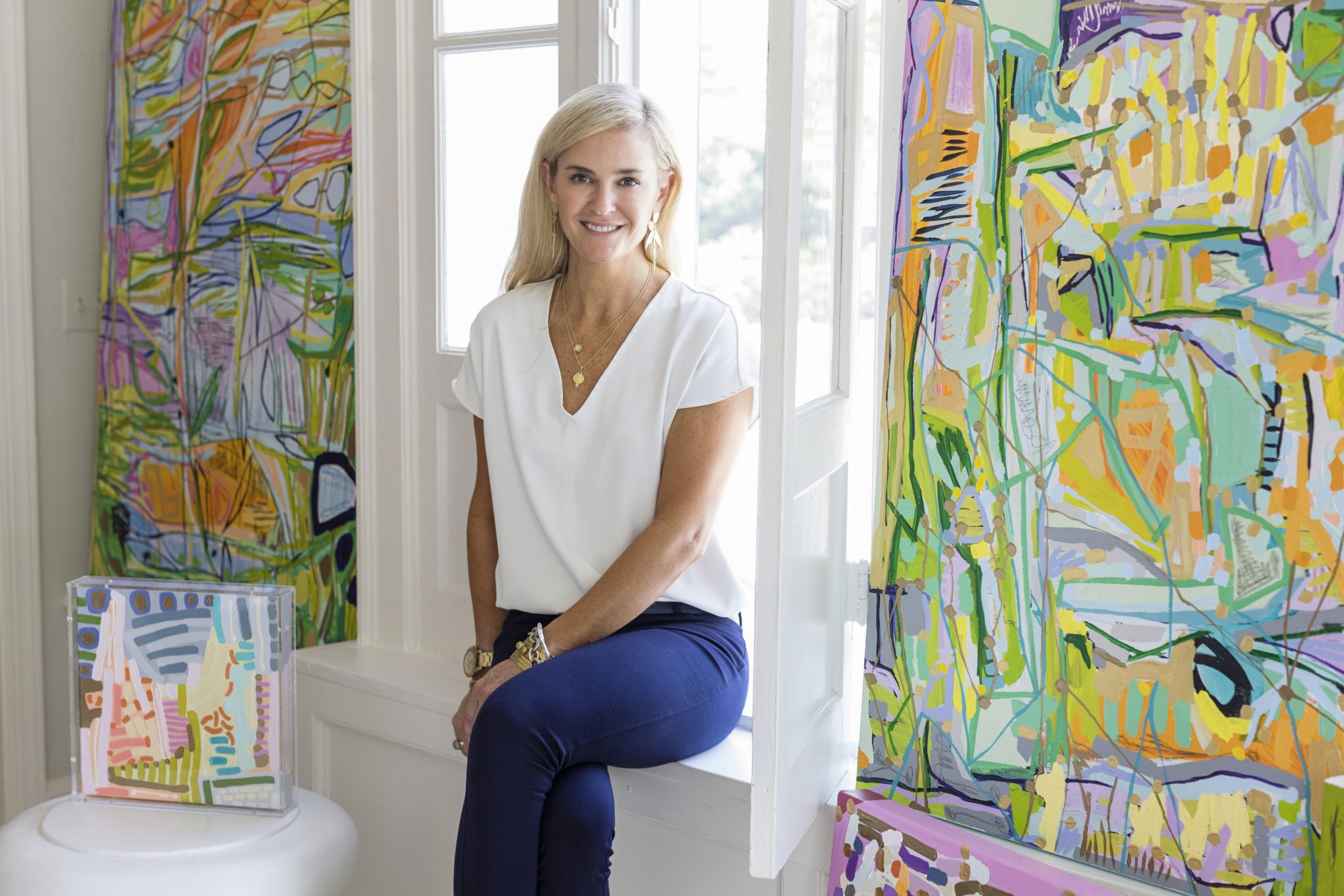 LUCY WILLIAMS

GET TO KNOW LUCY
PH: What inspires you to be creative?
LW: When I'm traveling and seeing new things that I love . . . houses, store fronts, landscapes, etc, I get inspired! I like to take lots of pictures and absorb all the colors.
PH: When did you discover you were an artist?
LW: As early as I can remember, I loved to draw. My mom was a small business owner of her own clothing line, and my oldest sister was always drawing, sewing, and painting, so creativity and innovation were definitely rampant throughout our house! In school, academics weren't my thing, but I loved art class! I majored in art at the University of Georgia but decided to start my career in interior design for the sake of getting a paycheck. Interior design and my art are both passions of mine and I feel lucky to have people that enjoy my work!!
PH: What has been the best thing you've learned while creating art?
LW: It's okay to make mistakes. So often I'll paint something I hate at first . . . but I'll keep working on it and eventually the "mistakes" are what help the art evolve into something so satisfying in the end.
PH: What do you think of garden gnomes?
LW: I'd spend my $ on something else - ha!
PH: How do you like your coffee?
LW: Black with a Splenda.
PH: Any sweet indulgences (to go with that coffee)?
LW: Anything chocolate.
PH: If we came to your house for dinner, what would the evening be like?
LW: Aside from great food, I'd provide tasty cocktails, good music, and really fun guests!
PH: An embarrassing moment?
LW: The most recent was going back to our rental car in a parking lot, waiting for my husband who was in a store, and 10 minutes later realizing I was sitting in someone else's car.
PH: Sunset or Sunrise?
LW: Definitely sunset! Sunrise is too early and sunsets involve happy hour!
PH: What is something you admire most about people?
LW: I admire decisive people. They get the job done!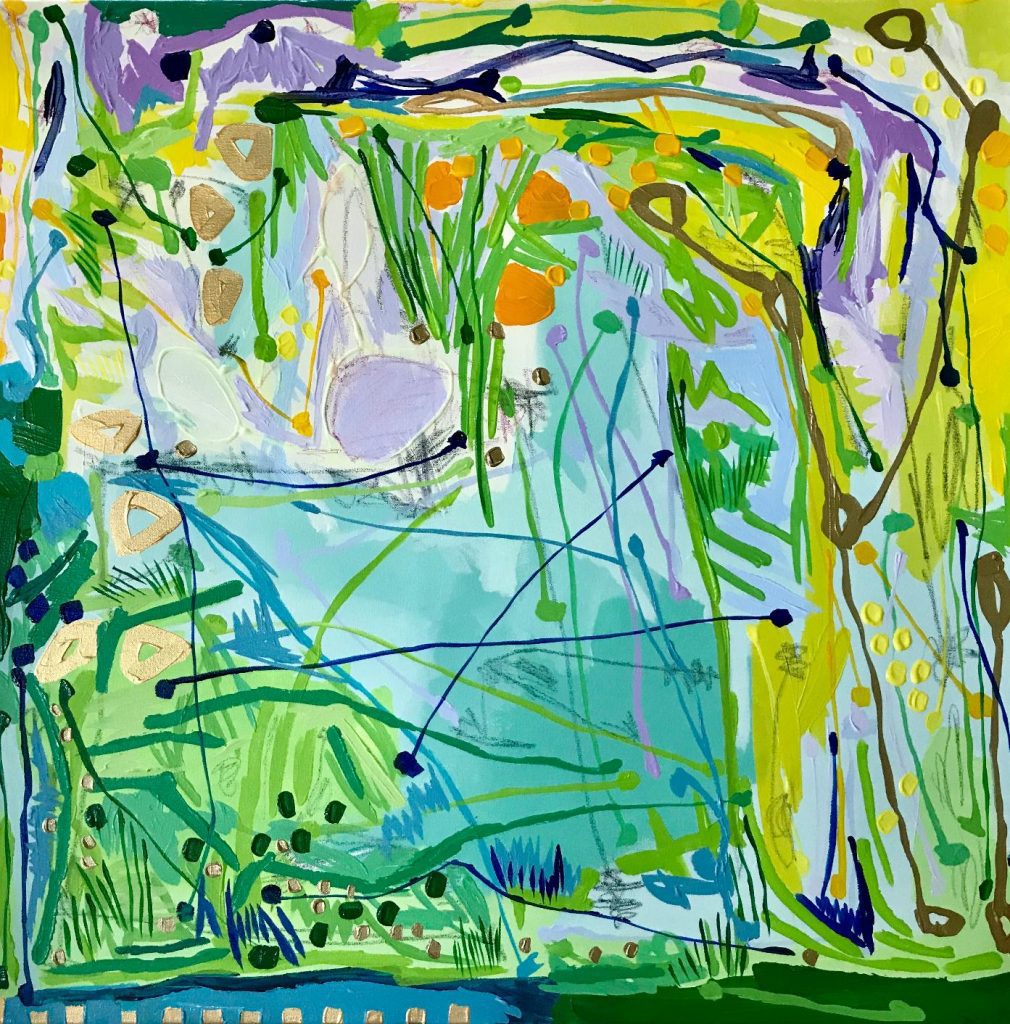 Lucy Williams Painting No. 10 Mixed media on Canvas
Photography by Tasha Tolliver
ARTIST BIOGRAPHY
Lucy Williams is a native of Richmond, Virginia. She earned her Bachelor's Degree in Art Education at the University of Georgia and continued her art education at the Lorenzo de Medici Art Institute in Florence, Italy. With work experience in fabrics, furnishings, and design in New York City, Richmond, Charleston, South Carolina and Denver, Lucy has unique art and design expertise that benefits her clients throughout the United States. In 2003, Lucy and her family moved from Denver back home to Virginia, settling in Norfolk.
Lucy is the owner of Lucy Williams Interiors in Norfolk, Virginia, serving select residential clients. Eight of her clients' homes have been selected for the Virginia's Historic Garden Week and three homes were on The Children's Hospital of the King's Daughter's Tour de Cuisine. Her design projects have received international exposure on websites including QuadrilleFabrics.com, SamuelandSons.com, and Domino.com  and have been featured on popular blogs such as House of Turquoise and My Design Chic, the DIY and FIY television networks, and within the Restyle Source Market Style Guide for the Summer 2017 Las Vegas Furniture Market.
Lucy has a passion for painting. Lucy's art career began 20 years ago in portraiture. A few years later, she began painting for her own home. Lucy loves using art as the color inspiration for her design projects, and her own home is a reflection of how she uses her paintings to enhance the color scheme of a room. When her interior design clients saw her work, they started commissioning Lucy. She has sold over one hundred paintings throughout The United States.
---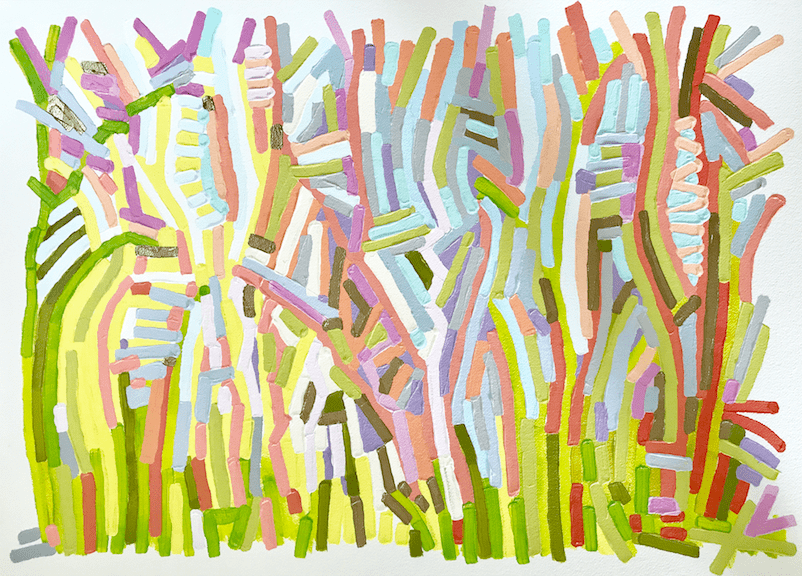 Painting No. 35  Acrylic & Mixed Media on Paper
BROWSE ALL LUCY WILLIAMS PAINTINGS AVAILABLE FOR PURCHASE HERE!
Please call or email us to inquire. We ship and insure!
FOR THE LOVE OF ART!